Po Atarau / Haere Ra / Now is the Hour
Clement Scott / Maewa Kaihau / Dorothy Stewart
In Australia in 1913, Palings published the piano tune Swiss Cradle Song. In New Zealand the Maori lyrics Po Atarau were added to it. In 1920 Maewa Kaihau added more lines to it for to get the Haere Ra Waltz Song, which became a favourite to sing when steamships were departing overseas.

In 1945, English wartime singer Gracie Fields learnt Haere Ra on a visit to New Zealand. Her version of it, known as Now is the Hour became a world-wide hit. MORE BELOW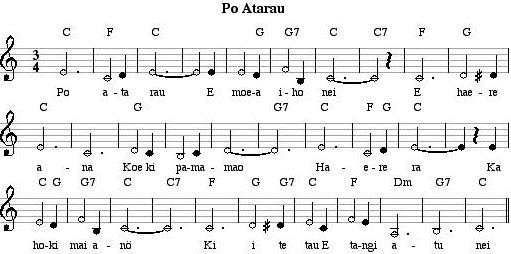 Pö atarau
E moea iho nei
E haere ana
Koe ki pämamao

Haere rä
Ka hoki mai anö
Ki i te tau
E tangi atu nei
On a moonlit night
I see in a dream
You going
To a distant land

Farewell,
But return again
To your loved one,
Weeping here
Play this 1 K Midi tune.


Or play this 92 K MP3 Hawaiian guitar version.
Swiss Cradle Song
In 1913, Palings published Swiss Cradle Song by "Clement Scott". This was a piano piece (a music score of seven large folio pages) consisting of about 8 variations the 16-bar theme shown below. Palings sold 130,000 copies of Swiss Cradle Song; several thousand of these would have been sales in New Zealand.

You can hear the first variation of Swiss Cradle Song here.

Midi 2Kb with full piano chords.

Here is the melody line of the first 16 bars.

Midi 1Kb melody line only.
Po Atarau: several stories of its origin
In new Zealand these 16 bars of Swiss Cradle Song were changed from 4/4 time to 3/4 time to become the tune for Po Atarau.

In his book Counting the Beat (1997), Gordon Spittle says that according to an (un-named) old pupil of Te Aute College, Po Atarau was in the college songbook in1916. The Maori lyrics translated as

On a moonlit night as I was about to sleep
I realized you were going far away from me
Farewell even though you are going away
Please come back my dear I will be longing for you.

I do not know if a copy of this songbook exists, or if the Swiss Cradle tune was used for singing this version of Po Atarau. When I phoned him, Mr Spittle said that, from memory, he thought he got this information from a thesis written about Po Atarau. I have not yet located this thesis. (JA)

These words seem to have been added to and modified by various people. Perhaps it was the Grace and Awatere family shearing gang from Tuparoa on the East Coast who first joined the Swiss Cradle tune to the Po Atarau lyrics in 1919.

According to Dick Grace, who was a small boy at the time, after hearing the Swiss Cradle song played by the pianist accompanying the silent movie pictures at Gisborne they wrote a verse in English and two in Maori. They called the song Po Ata Rau. The 1973 LP, Maori Song and Rhythm, by the Ma-wai-hakona Musical group concludes with Po Atarau (farewell song) attributed to the Grace and Awatere families.
Maewa Kaihau
The Prince of Wales visited NZ in 1920. To farewell him, Maewa Kaihau (of Waiuku, near Manukau) devised a new version of the song in which the first five words of Po Atarau were changed and two more verses were put in front of them (the Grace/Awatere verses?), and called it the Haere Ra Waltz Song or Maori Farewell Song.

Te i-wi te, I-wi e te i-wi e
Ta hu-ri mai ra, Te nga-ka-u e
Ki nga ku-pu, O te ro-ngo pai
He o-ra-nga O te i-wi e

Ha-e-re ra, Te ma-nu ta-ngi pai
E hae-re a-na, Koe ki pa-ma-mao.
Haere ra, Ka ho-ki mai a-no,
Ki - - te tau, E ta-ngi a-tu nei

The song became extremely popular, and Maewa Kaihau claimed that all the words and tune were her own work. But Palings soon claimed copyright for the tune, and Maewa KaihauÍs words were not copyrighted until 1928, by RobertsonÍs Publishers, a company that was later taken over by Lewis Eady which was in turn taken over by Charles Begg & Co. More recently Dick Grace has claimed most of the words as the work of his family.

In those days before radio and before locally-made recordings, the the lyrics of this song were probably being changed constantly according to circumstance and memory, and Kaihau's genius was to mold a version which fulfilled the needs whose words could be understood and appreciated by the white population.

Over the next 25 years Haere Ra became a favourite to sing on the wharfside when farewelling friends and troops on departing steamships.

The song was recorded by Ernest McKinlay c1928, Ana Hato 1927, and George Nepia c1935, all of which included English and Maori words, although there are minor variations in the text.
Gracie Fields
In 1945 British wartime singer Gracie Fields visited New Zealand, where she was given a reception something akin to a Royal Visit. At Rotorua, she was taught Haere Ra by Guide Kiri's concert party. Gracie's manager Dorothy Stewart was also her American agent.

In July 1947, Gracie Fields sang her version on a BBC radio programme, and around the same time recorded it for English Decca with fantastic success.

Gracie Fields did not include the Sunset glow passage in her version. It seems that the Sunset glow bridge -words and music - were composed by Dorothy Stewart. Hence her share in the copyright.

(Also at about this time Albert Saunders died. He comes into this story later. Or should he be at the beginning?)
Bing Crosby
We are guessing that Stewart returned to the USA in 1945/46 with her version of the music score of Now is the Hour and, because of her influential position, was able to introduce it to Bing Crosby. He recorded it on November 8, 1947 with the Sunset glow bridge passage. Bing's recording of it had no orchestral support. His only accompaniment were the voices of the Ken Darby Choir. On the B side of the record was Silver Threads Among the Gold.

Now is the hour, when we must say goodbye.
Soon you'll be sailing far across the sea.
While you're away, oh, then, remember me.
When you return, you'll find me waiting here.

Sunset glow fades in the west.
Night o'er the valley is creeping.
Birds cuddle down in their nest
Soon all the world will be sleeping.

Now is the hour, when we must say goodbye.
Soon you'll be sailing far across the sea.
While you're away, oh, then, remember me.
When you return, you'll find me waiting here.

Crosby's version was probably released and distributed after Fields' version had already made an impact in America. Around Christmas 1947, because of industrial action in the US, it may have been difficult to distribute US-made recordings, including the distribution of Crosby's Now is the Hour. This is probably why in January 1948 a planeload and shiploads of Fields' version were sent to the US to satisfy demand for the tune. And that is how Gracie Field's version was as successful as Bing's in America at that time. Several million copies of the record were sold.

Bing Crosby's Now is the Hour entered the Top Ten charts on 5 Feb 1948. It was No. 1 or 2 from 28 Feb to 29 May. It stayed on the Top Ten charts until 3 July 1948. (23 weeks). It was Bing's 42nd and last single to reach the top of the pop charts.
Albert Saunders
In 1948, two years after Albert Saunders had died, his widow claimed that it was her late husband who had written the "Swiss Cradle Song," way back in 1906. She said they had had a family of 11 children to feed and her husband had sold the copyright of Swiss Cradle Song for two guineas ready cash to Palings Music Publishers, as part of a series of his compositions called "Songs of all Nations," using the name Clement Scott as a pseudonym.

However Mr F. Matthews, the manager of Palings, denied this, and said that Clement Scott was still alive and living in New South Wales.

Peter Downes, a retired Radio NZ executive producer, says that although Albert Saunders was on the music staff of Palings as an arranger and composer, his compositions were mostly dance tunes (like the Mad Pranks Foxtrot) or military marches (like the Comet March, commemorating the coming of Halley's comet) " all vastly different from the type of composition listed for Clement Scott.

This is not to say that they weren't one and the same person, says Mr Downes. Saunders could have used the pseudonym for his piano solos and more romantic pieces in order to differentiate between the two very different composing styles. But there is no proof; just his widow's claim, repeated in March 2000 by Saunders' son Jack.

Albert Bokhare Saunders, (Clement Scott??) lived in Moree in Northern NSW, and is seen here as a young member of the Moree District Band.
Thanks
My thanks to

Gordon Spittle for allowing me to use information from his book Counting the Beat, a History of New Zealand Song (1997),
Roger Flury of the music section of the National Library of New Zealand,
and Peter Downes, retired Radio New Zealand executive producer, and author of several books on aspects of NZ theatre and music.